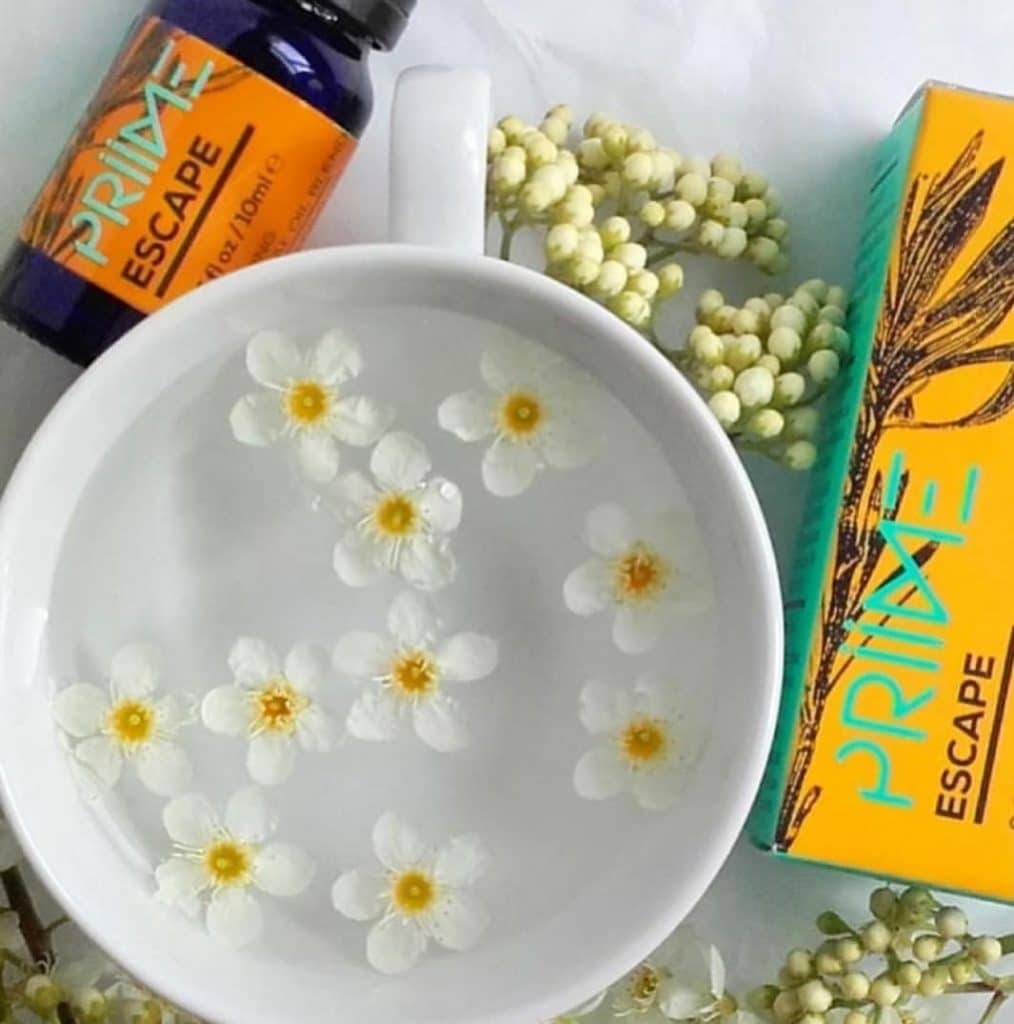 The precious incense, long praised for its wonderful properties, meets fragrant helichrysum, soothing Roman chamomile and spearmint to relieve tension, calm stress and boost morale.
THE BENEFITS OF PRIIME ESCAPE
Relieves tension – Helichrysum extract is known in its native Madagascar as "the oil that heals", and is widely used to relieve temporary pain. Natural constituents of eucalyptus and cardamom are also said to support these functions.
Calms the mind – many ancient cultures have learned the value of frankincense and patchouli for focusing the mind and promoting deeper states of meditation and relaxation. We add them to this blend for the same reasons.
Refreshes and soothes – each drop of Escape applied to the temples and neck provides an invigorating sensation as pure essences from the mint family penetrate the skin to refresh areas of tension.
HOW TO USE PRIME ESCAPE ?
There are several ways to use your Prime Escape oil! Here are a few ways to quickly relieve your body:
Local use – Apply Escape directly to the temples, forehead and base of the neck.
Atomizer – Escape oil can be atomized anywhere in the home, but is especially effective in rest rooms and bedrooms.
Dryer – pour a few drops onto a cloth and put it in the dryer to infuse sheets and pillowcases with this calming scent.
Helichrysum

Roman Chamomile

Spearmint

Frankincense
THE SUPPORTING INGREDIENTS :
Lavender

Peppermint

Cardamom

Eucalyptus

Fractionated Coconut Oil

Patchouli
Possible photosensitivity at the site of topical application. Avoid direct sunlight for 6 hours after application.

Pregnant or breastfeeding women should always consult their physician before using essential oils or blends of essential oils. Experts recommend avoiding all essential oils during the first trimester and using only those approved by your doctor during the second and third trimesters.

Note: ONLY FOR EXTERNAL USE. KEEP OUT OF REACH OF CHILDREN. Risk of hypersensitivity of the skin. Avoid contact with eyes, inside of ears and sensitive areas.